VeggieTales Live! On Stage was the very first VeggieTales Live! in 2002, for a 2002-2003 tour season. 
In VeggieTales Live!, Bob, Larry and other favorite characters like Junior Asparagus and French Peas, Jean Claude and Phillipe, recreate the best-selling video Dave and the Giant Pickle, a unique retelling of David vs. Goliath. The Veggies play the roles of David, Goliath, the Israelites and Philistines. They also recreate Josh and the Big Wall. Amazing set design, unusual costumes (the characters don't have arms or legs), lively musical numbers and Monty Python inspired humor make the show appealing for kids and adults.
A Friend is a Friend
Big Things, Too!
Promised Land
Keep Walking
The Water Buffalo Song
The Lord Has Given
VeggieTales Theme Song
What We Have Learned
I Love My Lips!
What a Sight!
Junior's costume in the original 2002 tour was operated by Kristin Towers-Rowles. She ultimatley ended up pushing a disc in her back due to wearing the 50 ibs costume so much that she never appeared onstage again until 7 years later.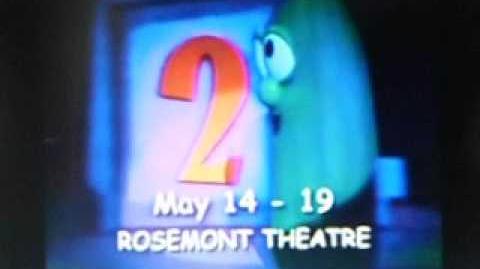 Community content is available under
CC-BY-SA
unless otherwise noted.