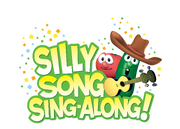 Silly Song Sing-Along! was the eighth VeggieTales Live! show. It was produced in 2014 tour year as well. [1] [2] [3] [4]
ARE YOU READY TO GET SILLY?
The Veggies are super excited about their new TV show! But, which song is the silliest? Chaos is bound to ensue when no one can agree on a favorite silly song. A new invention is unveiled to reveal the silliest of all silly songs. But when the machine malfunctions and Jimmy disappears, the Veggies must find a way to get along and get Jimmy back!
Sing along with some of your favorite silly songs of all time, including: "Hairbrush," "Love My Lips," and "The Pirates Who Don't Do Anything"! And the Veggies will teach you some new songs, too, like "Show You Love" from the brand-new DVD, Beauty and the Beet. This rollicking musical review of VeggieTales' greatest hits is sure to delight families as our Veggie friends learn to consider each other's feelings and wishes, and how to be a good friend at all times.
VeggieTales Theme Song
The Water Buffalo Song (from Where's God When I'm S-Scared?)
Endangered Love (from King George and the Ducky)
The Pirates Who Don't Do Anything (from Very Silly Songs!)
Monkey (from The Wonderful Wizard Of Ha's)
VeggieTales Live Medley
Light of Christmas (originally performed by Owl City and tobyMac, from Merry Larry and the True Light of Christmas)
The Great I Am (from Gideon: Tuba Warrior)
Kilts & Stilts (from MacLarry and the Stinky Cheese Battle)
I Love My Duck (from King George and the Ducky)
Rumor Weed (from Larry-Boy and the Rumor Weed)
Bellybutton (from The Ballad of Little Joe)
Larry's High Silk Hat (from Lyle the Kindly Viking)
Tear the Park Down (from Celery Night Fever)
The Hairbrush Song (from Are You My Neighbor?)
My Baby Elf (from Lord of the Beans)
Where Have All the Staplers Gone? (from Pistachio: the Little Boy that Woodn't)
I Can Be Your Friend (from Are You My Neighbor?)
VeggieTales Theme Song (reprise)
Main article: VeggieTales Live! Silly Song Sing-Along! Tour Schedule
Community content is available under
CC-BY-SA
unless otherwise noted.