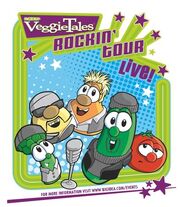 Rockin' Tour Live! was the second VeggieTales Live! show. It was produced for the 2005-2006 tour year as well.
Don't be alarmed -- Bob the Tomato, our stage manager, will be making sure that your favorite VeggieTales songs will be sung true to their original creation! You know, sometimes it's hard to keep the vegetables in line. We've decided to call this the VeggieTales Rockin' Tour LIVE because we are bringing all of your favorite silly songs, lots of energy, and high quality veggie action straight to you.
The first half will be a blast with our VeggieTales band, host Jessie, her crew of dancers and singers pumping up the kids with familiar songs and other fun-filled music. As a special treat, Jessie will also introduce our newest veggie friend, Merche. She is an amazing, 12-year-old singer and dancer that you are going to love. The first half will be fun -- filled with the familiar and the new, perfect for kids of all ages.
The second half of the show will be filled with all of your favorite VeggieTales songs. It's Bob and Larry's first rock concert and Bob is in charge. Once again Bob and Larry are on an adventure ... one that will bring many surprises, large microphones, life lessons, and a rockin' good time for all involved. Larry decides that he wants to be the road manager because Bob doesn't give him a role, and that's where Jessie steps in. Our interactive video screens, lighting show, and surprises will get everyone excited, dancing and singing along with every word.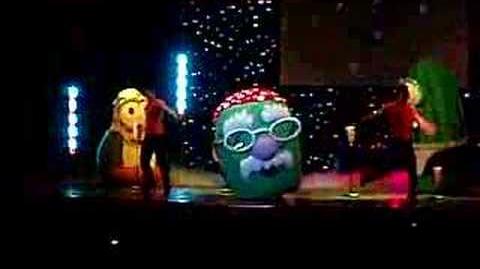 Community content is available under
CC-BY-SA
unless otherwise noted.