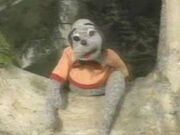 Hush Puppy is definitely man's, and lamb's, best friend. He is a real buddy who will always help you when you need it. Hush Puppy is happiest when there is a good mystery to solve and loves to play any kind of music, as long as it's fast. He is also known to be shy and introverted.
Hush Puppy has a Southern accent, and likes roses, and blue is a favorite color of his. Charlie Horse often tries to take advantage of Hush Puppy's sweet nature. Hush Puppy has a hard time keeping secrets, as when someone tells him not to tell someone else, he promises he won't, but ends up telling that someone else anyway, much to the displeasure of those who asked him to keep their secrets.
Hush Puppy has appeared in "The Shari Lewis Show", "Lamb Chop's Play-Along", and in "Charlie Horse Music Pizza".
When Shari Lewis passed away in 1998, Hush Puppy didn't make another appearance until 2010, this time around being puppeteered by Shari's daughter, Mallory Lewis.
Community content is available under
CC-BY-SA
unless otherwise noted.