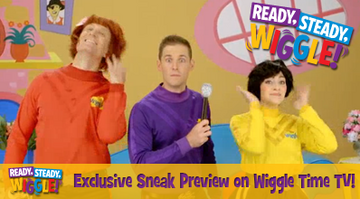 Hair Disaster is the Nineteenth episode from Season 1 of Ready, Steady, Wiggle! in September 6, 2013. 
Lachy has an invention! it is a wand that you can wave over your head and can have any hairdoo you like. Anthony wishes to have hair like Elvis. After a few seconds, Anthony has a white hair with a pony tail. Lachy runs away screming 'NOOOOO!' Emma then wishes to have short red hair with a pink bow. Simon than wishes to have hair like The Beatles. After a few seconds the two Wiggles come back and it turns out thier wishes have been swaped! Lachy screams 'NO. NO NO NO. IT'S A HAIR DISASTER AHHHHHH! The Awake Wiggles then call Madame Bouffant and her assiant Mary Clare to help. The three Wiggles hair comes back to normal. As Lachy comes he turns his hair curly and blond!
Will Anthony's hair return to the way it was?
Will Lachy ever makes an invention that works?
I kinda think it suits you Anthony!
Will Emma's hair return to red?
Does Simon suit a pink bow?
Yeah! Yeah! Yeah! Look at their hair, hair, hair!
Community content is available under
CC-BY-SA
unless otherwise noted.