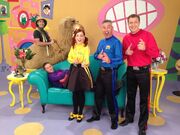 A Lot Of Camelot! is the Ninth episode from Season 1 of Ready, Steady, Wiggle! in August 27, 2013. Greg camos in this episode.
The Wiggles are going to a production of Camelot at the Wiggly Music Hall. Emma is playing the camel alot, Simon is playing Sir Lance alot, Anthony is playing is playing Sir Prance alot and Lachy is player Sir Sleep alot. However, thier is a problem when Lachy cant't wake up. Then, The Wiggles get a phone call from the director, Gregory Gregs saying production is geting closer and the rock band The Mini Mites is coming to wake up Lachy. They try to play Do The Propeller to wake him up, however it is not working. Later, Gregory Gregs comes and decides to leave Lachy at home to sleep while the rest of the Wiggles go to preform.
Community content is available under
CC-BY-SA
unless otherwise noted.